About Me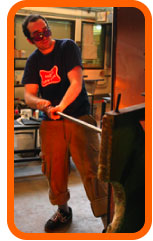 Levi Belber is a glass artist based in Seattle, Washington. After attending the Rhode Island School of Design, Levi moved to Seattle in 1995 to pursue his interest in studio glass. He has worked as a freelance gaffer, assistant, and factory worker in the Washington glass community for over 10 years.
Leviglass.com was created to highlight his new family of functional glass. His love of food and cooking has inspired him to create colorful products that bring excitement back into the home. These new pieces combine his background in traditional studio glass practice with modern factory glass production and automation.
Please join the leviglass.com mailing list, and we will let you know about upcoming retail shows, site updates, and other good stuff.